Na bijna 3 maanden study ontvang ik het Certificaat van het Digital Wellness Institute en mag ik me, als eerste in Nederland, Digital Wellness Educator noemen!!
Dit certificeringsprogramma bestaat uit 10 blokken is ontworpen om leiders en praktijkmensen uit te rusten met op onderzoek gebaseerde tools en strategieën om digitale bloei te bevorderen. Wekelijks zijn er, naast het studiemateriaal, online bijeenkomsten met deelnemers uit de hele wereld. Bijzonder interessant is de input vanuit meerdere landen en uitgangspunten over het onderwerp Digital Wellness.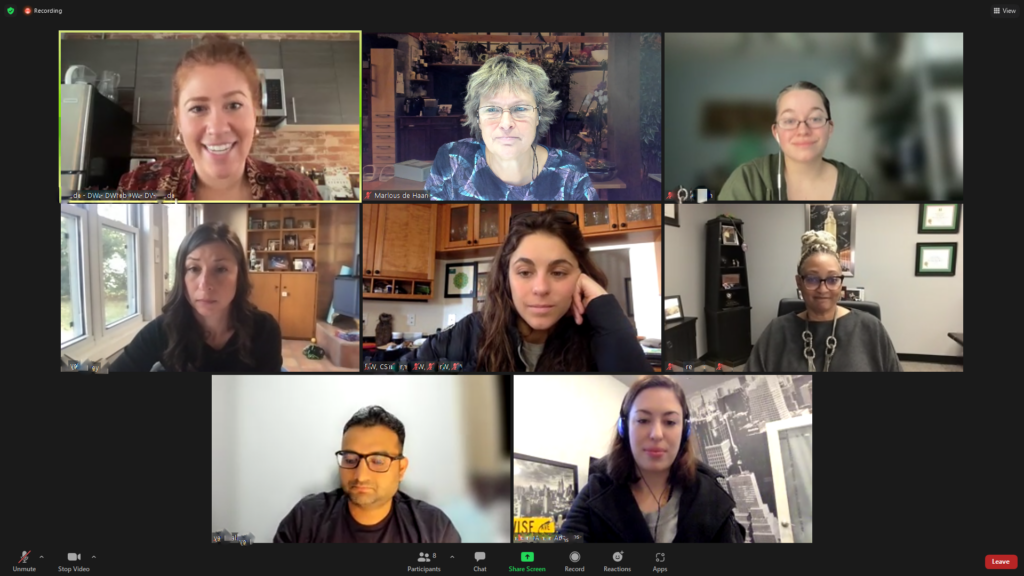 Program
Breakdown
Week 1
Flourishing in the Digital Era
Introduction to the Digital Wellness course & teachers
How to access the course materials and platforms
Assessing your own digital wellness
Access to your digital wellness E-book
Week 2
Productivity
Dive into what the Attention Economy is
Address how to manage distractions
Evaluate the problems & opportunities that come with multitasking
Discuss why technology can be addicting (The Hook Model)
Week 3
Environment
Dive into digital minimalism
Learn how to set digital boundaries at home
Practice the art of digital feng shui
Understand the impact of mindful tech design
Week 4
Communication
Evaluate digital culture within your workspace
Learn to recognize and manage Zoom Fatigue
Implement best practices when it comes to telecommunication
Week 5
Relationships
Create social capital online and offline
Understand the power of presence
Make use of online social support
Develop Media Bubbles & Friendships
Week 6
Mental Health
Evaluate the impacts of stress and how it develops
Learn about dichotomy of Gaming addiction and friendship building
Understand the impact of social media
How to create mindfulness while living in a digital world
Week 7
Physical Health
How habits form and how to break them
Importance of Ergonomics and posture
Practice Self-care strategies for physical health
Discuss the unseen world of Electromagnetic Fields
Week 8
Quantified Self
Introduction to the quantified self
How to use data for insight
Optimizing connected health
Week 9
Digital Citizenship
How to optimize your online privacy
Discuss Gen Z's perspective on the problems and opportunities of tech
Understanding Digital activism & cancel culture
How to create a safe space for Diversity & Ethics
Week 10
Flourishing in the Digital Era
Creating a mindful workshop design
How to interpret academic research
Putting all of your knowledge together!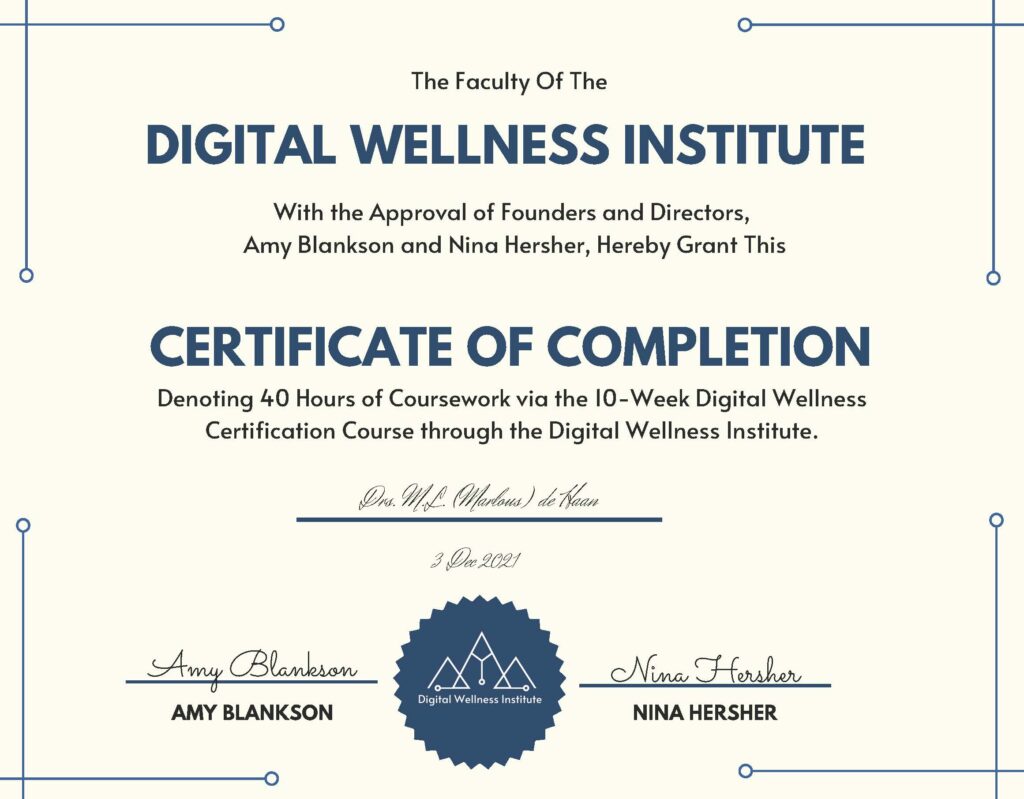 ©Digital Wellness – M.L. de Haan 2021